Courses Offered
Reiki Intensive Reiki levels I, II and Master Teacher level.
Learning Reiki is an empowering experience. Learn to use universal life-force energy to heal yourself, plants, animals and others. Guidance will be given on self-healing and distance healing. This course can be taught in one weekend or spread out into separate weekends. The final attunement will enable the student to attune others.

ARCH Initiate.
During this life-changing course you will let go of long-held beliefs and negative energy patterns that no longer serve you, be attuned to the elements of earth, fire, water and ether and learn how to use ARCH to truly master your life, work and relationships. All students who complete the course are certified and recognized by Laurie Grant the founder of ARCH.

Ayurveda: The Science of Life.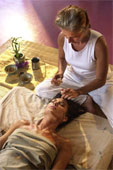 This is a course geared towards those who would like to use a natural healing system to understand their own health. It is also an ideal course for holistic and medical practitioners especially physicians, nurses, nutritionists, psychotherapists, homeopaths, reflexologists and massage therapists.

Students will be able to incorporate their knowledge into a holistic practice and use it as a modality. They will learn how to treat clients with digestive disorders, anxiety, depression, constipation, hormonal imbalance etc. This course would also be of benefit for anyone wishing to take charge of their health.

This course focuses on:
The history and origin of Ayurveda
The five element theory
The doshas
The 15 subdoshas
The doshas and the disease process
Tongue diagnosis
Pulse diagnosis
Marma massage
Diet
Lifestyle
Working with clients
Courses take place in Ardrahan, Co. Galway (Courses can also be offered in Galway City).
For more information call Elaine Molloy on 00 353 83 365 1821.